Summer is smiting us all for daring to say that anything before the solstice counted as summertime. It was 95 out last I checked, and 95 feels particularly bad when your car has a black leather interior and a broken air conditioner. I was basically sticking to my seat and trying to drive with my head out the window.
That said, the warm weather does mean some good news for us in the Ocean State: beach season. Nothing I love quite as much as baking in the sun until you can't stand it any more and then diving into the freezing ocean. So in the spirit of beach season, I've put together my beach wishlist. Clicking any of the images will take you to the website where you can find them.
1.) Mara Hoffman underwire cami bikini: I love the bright and fun pattern, and a cami top gives a little bit more coverage. Plus I like to think the pattern will confuse the seagulls. I was traumatized by a rogue seagull who stole my lunchables pizza once, so naturally we don't get along.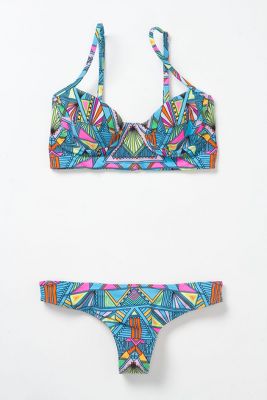 2.) 6 Shore Road one piece: I've been looking for a good one one-piece since they're so great for swimming (and hiding last night's food baby) and I love the way this one has the slightly less fitted top and the sleek bottom. Sadly I'm not sure it would be very flattering on my body, but it's like that guy you date who all your friends say is bad news and secretly you know he's bad news but he's cute and you wanna date him anyway–ignore your instincts and wear it (er, him?) anyway.
3.) Roberta Roller Rabbit Coral Coverup: As someone who burns like crazy I always have to have something to put on when I get red, It's perfect that this coverup has longer sleeves for those of us who will burn and will spend the next few days picking at the burnt skin. Coral is so great for summer, plus the silver trim jazzes it up a little.
4.) Big Floppy Beach Hat: I've been dying for an oversized hat to wear to the beach. They're very Faye Dunaway meets Kentucky Derby meets nesting grounds for local birds. Naturally I couldn't settle on just one. I love how absurdly large the black Jessica Simpson one is, but I also love white in the summer, hence the Echo hat.
5.) J Crew Beach Bag: I'm usually attracted to anything with bright colors and bold patterns, but this feels like a bag I could get a lot of mileage from. It's got a nautical feel and the rope handles make it beach-perfect. Plus I could definitely fit in 5 or 6 different kinds of snacks and not look fat to the naked eye; you'd have to dig down to the bottom to hit my stash of snickers and Orangina.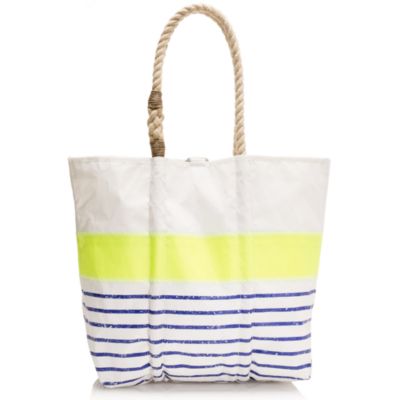 6.) Calypso Beach Blanket: I usually just lie out on a towel but I've been searching for a good beach blanket. I can't stand when your towel gets sandy on the ground and then you have to dry off with it and then you get sandy and then your blanket is still sandy when you lie down and somehow three days later there's still sand everywhere. Enter beach blanket. This blanket is cute and looks big enough to fit a couple of people lying out.
It may not win for most cohesive list, but everything falls under the category of "I want I want I want." The next step is clearly me photoshopping a picture of me with all these things on.
Of course there's all the other beach essentials I didn't include: water bottle, sunglasses, sunscreen, book, magazines. I recommend getting one of the Brita self-filtering water bottles 'cause they filter the taste on the go. Ice water is my best friend on days like today.
I'll be spending the rest of the day darting from air conditioned room to air conditioned room. Stay cool!